Ear Ringing One Ear

Each day of your healing process, I urge you to make a log of the volume of your tinnitus, the distress you felt that day (or week or month), and other components of your lifestyle that may be affecting your tinnitus. Please keep excellent records for yourself and for your health practitioner. You make your physician job much simpler if you are prepared when you see her or him. Remember, your doctor cannot hear your tinnitus.
By keeping an easy to read chart, such as the one that follows for you to keep daily, weekly and monthly, you will provide important information to your health professionals and have greater personal insights into your healing process. However, these five check marks per day is all I can have you listen to your tinnitus for. You'll always hear your tinnitus while in the healing process, but you may not listen to it!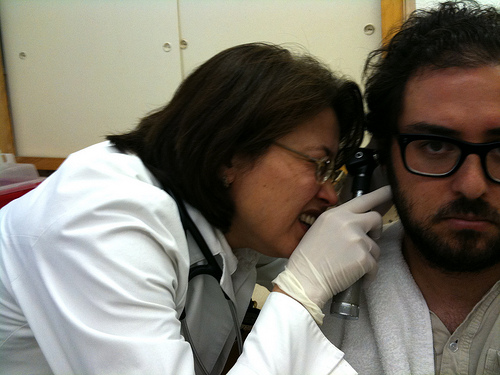 Do not assume that, just because two weeks pass, all of your days will be quieter and calmer than they were two weeks ago. You will, in all likelihood, progressively get better with fewer bad days per week, as time goes on. Five times each day, record the time of the reading. Then record how loud your tinnitus is on a scale of one-to-five or one-to-ten. Then record how distressed or depressed you are, using the same system.
Next describe what foods, herbs, and medications you are using. This will help you discover if there is anything you are consuming that is exacerbating your tinnitus, Once you have collected one week's worth of information, you can begin recording data onto a weekly chart and graphing your improvement. Eventually you will set aside this entire journal and find that it is no longer necessary to track your tinnitus, as all likelihood, it will have quieted dramatically or you will have become habituated to it if it persists. That will be a day to celebrate, and I will celebrate with you, as I do with every client who heals and finds the way to an improved quality of life.
Looking Back And Forward
I remember the day I woke up and the tinnitus was gone. It was Christmas time in 1995. After 30 months of living in hell, one morning I experienced silence. The maddening noise had completely vanished, and did not recur until August of 1996. Since then, it has returned a few times per month, for a couple of hours at a time – usually at bedtime, after a long and stressful day.
By 1996, my life took a profound turn away from selling, into a life of seeing clients with tinnitus and helping them in my role of psychotherapist-hypnotherapist. I had not intended to go in this direction, but when I "went silent," so many people suffering with tinnitus wanted the answer. In response to thousands of phone calls, emails, faxes, and letters, I began writing articles and posting information about tinnitus relief on my website.
The purpose of this post is to share my conclusions about tinnitus therapy and treatment, based on my experience with hundreds of clients, thousands of consultations, and continuous leviathan correspondence over the past decade. I cannot answer every question about tinnitus, nor offer a new scientific theory. l can tell you what I know is helping people turn the volume down. I will also speculate about future research and where more answers may be
Where does tinnitus originate?
Many questions are still unanswered as to where tinnitus exists in the human body. The initial thought many people have is that it is somewhere in the ear. There is no doubt in my mind that in some people, this is true. Perhaps otoacoustic emissions from the ear send noisy signals to the brain and that is tinnitus. Perhaps. In some cases this is very possible.
There is one thing about which we can be certain. In all cases, tinnitus is experienced in the brain and interpreted by the brain. In other words, like physical pain, tinnitus is interpreted and, to some extent, generated in the brain. After years of doing psychotherapy and hypnotherapy with people who suffer from tinnitus, my experience is that it can, and often does go away with the right program, the right treatment plan.
Imagine that there are hundreds of highways in your brain. (There are billions, but if you can imagine a map of your country with all of the interstate highways visible, that's enough to understand this useful metaphor.) These highways, when interconnected, form memory and allow you to think and create. There are probably no other thought centers in the body. There are probably no other creative thinking centers in the body. The neural circuitry, the highways, are where it's all at.
Think of someone you love. Think about your loved one in great detail: what your loved one looks like, sounds like, maybe even how your loved one feels. Just do this for a moment before continuing. Your "conscious self' just took an off ramp from reading this post to an image or sound or feeling, or all three, connected to someone you love. The "driver of your car," you, went from reading this post to someone you love. This act literally lit up an entirely different set of circuits and neural pathways in your brain.
Some of these highways have tinnitus "on them."

Some of these highways do not have tinnitus "on them."
These two statements are certain. They are not hypotheses, nor are they theories. These statements are facts. It is interesting to note that there is some evidence that some cases of tinnitus are caused by an instability of the structure of the cells in some parts of the brain.
My years of experience using different kinds of hypnosis with hundreds and hundreds of clients, along with case studies from colleagues such as Jennifer Battaglino, Ron Stubbs, Bob Bayliss, and others, offer further insights about the origin of tinnitus.
- In regression hypnosis, when clients are directed to times in their life when tinnitus was not present, almost all clients do not hear their tinnitus while in trance. This can be for periods of time up to two hours during our session work. During these two hours, most clients do not hear their tinnitus at all. They are driving themselves along highways that do not have tinnitus "on them." This is consistently true. At least 70 percent, and as many as 90 percent of clients report this experience.
- In regression hypnosis, when clients are regressed to describe incidents of serious events where tinnitus volume is loud and distressing, they almost always experience increased tinnitus and distress. Upon relating these incidents many times in trance, the client's anxiety and helplessness reduce, and often the client experiences little or no anxiety to loud tinnitus while in trance.
- When clients are brought out of "trance" and are attentive to everything else in the world, their tinnitus tends to be louder (although this is not always true) for an hour or two, then it remits significantly, often to levels that are substantially quieter than when the client walked into the office.
- Long-term results show significant gains in almost all cases. Now, this is a sticky point. Clients who faithfully do their homework and practice all of the different focusing and self-hypnosis exercises we assign do substantially better them those who fly into town for three days, leave, and do nothing at home. Personal responsibility is critical.
- Meditation, for people with moderate to severe tinnitus, has proven largely ineffective.
- Hypnosis that relies on relaxation and calming techniques has almost no value when contrasted with guided imagery. But …
- Imagery is a distant second place when contrasted with the long-term results of the hypnotic interventions mentioned in the first two bullet points. To learn more about Tinnitus, you can check out Ear Ringing One Ear.
Related posts: